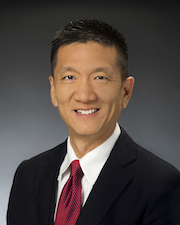 Douglas S. Chin
Director
What People Say About Douglas S. Chin
"Doug Chin, at Starn O'Toole Marcus & Fisher, has been a wonderful partner in our government relations efforts. He is a consummate professional and well respected in our community, so he is able to open many doors for us. We appreciate our partnership with Doug and with Starn O'Toole Marcus & Fisher."
U.S. News-Best Lawyers, "Best Law Firms" Comment

"I have never been more satisfied with the personal attention, straight forward answers, awareness of budget and attention to details and their understanding of working with County and State officials than what Starn O'Toole Marcus & Fisher has consistently delivered in our entitlement process for special permit in a complex situation."
U.S. News-Best Lawyers, "Best Law Firms" Comment
Doug Chin is noted for his wide-ranging disputes expertise, including commercial and municipal litigation. ''Doug can litigate, negotiate and guide. He sees a broader picture than just the battle of rights between the parties, and his actions and advice are aimed at solving the problem." ''As the former Attorney General, he has developed a strong sense of the judiciary and the approaches that will have the greatest chances of success.''
Chambers USA Leading Lawyers for Business, Client Comments
Hawaii litigation lawyer Douglas S. Chin has extensive experience in state and federal courts, from Hawaii to the United States Supreme Court, and experience in managing state and local government agencies at the highest levels.
Mr. Chin focuses his practice in commercial litigation, administrative law and government relations.
Mr. Chin is rated AV Preeminent® by Martindale-Hubbell®; the highest rating possible, for his skill and integrity. 
Mr. Chin has been named to the The Best Lawyers in America® list in the practice areas of Appellate Practice, Commercial Litigation, Government Relations Practice, Administrative/Regulatory Law and Civil Rights Law. Mr. Chin has been named the "Lawyer of the Year" in Honolulu by The Best Lawyers in America®, in the practice area of Civil Rights Law (2023). 
Mr. Chin has been recognized as a "Litigation Star" by Benchmark Litigation.
Mr. Chin is recognized by Chambers and Partners USA Leading Lawyers for Business in the practice area General: Commercial Litigation.
Litigation Experience
In 2020, Mr. Chin, on behalf of a major international auto distributor, obtained a unanimous jury verdict in a federal trial reducing the damages sought by plaintiffs from $42 million to one dollar ($1), in addition to being awarded substantial counterclaim damages.  
As a state and Honolulu County prosecutor for more than 15 years, Mr. Chin tried approximately 50 jury cases to verdict. 
Mr. Chin was recognized with a "Top Gun" award for winning the most trials in a calendar year out of 100 Honolulu prosecutors. In 2006, Mr. Chin was appointed First Deputy Prosecutor and then became Acting Prosecuting Attorney in 2010.
Attorney General, State of Hawaii
Hawaii v. Trump – First attorney general in the nation to successfully obtain an injunction to stop the President's second and third executive orders banning travel from certain Muslim-majority countries, a case that received national exposure and was eventually heard by the United States Supreme Court. For his efforts, Mr. Chin in 2017 was recognized by the Hawaii State Bar Association as its "Champion for Social Justice", and by the Council on American Islamic Relations as a "Defender of Liberty".  (Mr. Chin participated in the panel discussion, "Does Hawaii Welcome Immigrants?" hosted by Zocalo/Daniel K. Inouye Institute. Watch video here. Mr. Chin also posted about the case in The American Constitution Society's Expert Forum blog, "Getting Front and Center to Confront Prejudice".
Medical Cannabis Dispensary Regulation – Implemented new state law granting licenses for the first time to medical cannabis dispensaries in Hawaii. Co-chaired a national working group through the National Association of Attorneys General made up of 29 states with various forms of legalized cannabis legislation.
During Mr. Chin's term as the state's Attorney General from 2015-2018, he was the first Hawaii Attorney General to chair the Conference of Western Attorneys General, the first to serve on the Executive Committee of the National Association of Attorneys General, and the first to serve as the policy chair for the Democratic Attorneys General Association. 
Other Government Experience
Mr. Chin served as the Hawaii Lieutenant Governor in 2018. From 2010 to 2013, under Honolulu Mayor Peter Carlisle, Mr. Chin served as the Managing Director for the City & County of Honolulu, during which he was responsible for 23 municipal government agencies and more than 10,000 employees with an annual operating budget of $2 billion and negotiated complex matters ranging from public employee contracts to energy sustainability initiatives.
Community
Mr. Chin has served on multiple boards outside of work, including the national Leadership Center for Attorney General Studies, the Hawaii Book and Music Festival, the American Judicature Society,  and the local YMCA and American Youth Soccer Organization (AYSO) chapters. In 2020, Mr. Chin was appointed and unanimously confirmed to serve a five-year term on the Honolulu Police Commission.